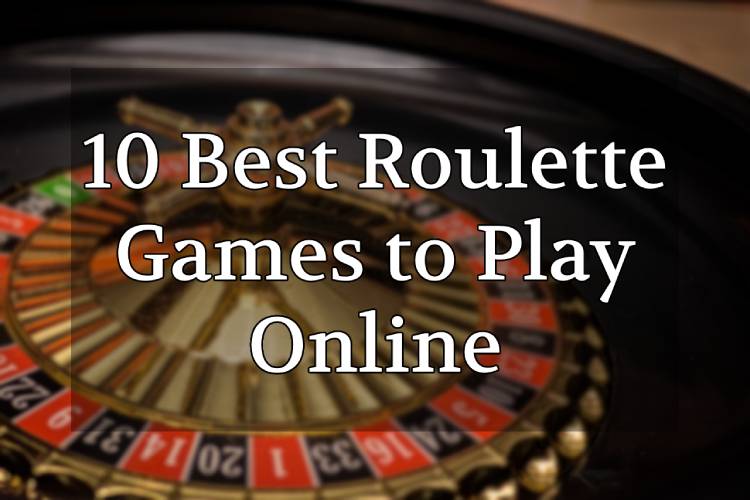 Roulette games are among the most popular games in brick-and-mortar and online casinos. They are straightforward games played with a roulette wheel that has 37 or 38 numbered and coloured slots on it. 
In this blog post, we will discuss some of the best roulette games to play online.
Are All Roulette Wheels the Same?
There are various different roulette games, but they typically all stem from European Roulette and American Roulette. The roulette wheels in these games are almost the same except for one major difference. The American roulette wheel has 2 green zero pockets (0 and 00), whereas European Roulette has a single green zero pocket (0). 
So, if you play a different version of Roulette, they are likely to still use one of these two roulette wheels.
What are the Best Roulette Games to Play?
Most roulette games are very similar and follow the classic structure of placing a bet, watching the wheel spin, and seeing where the ball lands to find out if you win. Deciding the best one is down to personal preference, as each can offer something a little different.
So, while there is no definitive best roulette game to play, we have compiled a list of some popular options and provided a bit of information on each.
10p Roulette
10p Roulette, by G Games (formerly Gamevy), is a European roulette variant with 37 pockets that range from 0 to 36. It offers a minimum bet size of £0.10 - hence the name - and a maximum bet size of £50. 
As such, it is a favourite among players who are beginners and want to learn the ropes of Roulette without wagering as much per spin. It may also appeal to those who prefer to focus on the gameplay or play with a lower budget and have a better chance of getting more spins out of it by playing at a lower bet level.
All of the typical roulette bets are available, such as Inside bets (straight up, split, street bets, etc.), outside bets (even/odd, red/black, high/low), as well as column or dozen bets. 
10p Roulette's RTP (Return to Player) rate sits at 97.3%, as is to be expected in European Roulette, where the house edge is 2.7%.
20p Roulette
20p Roulette, by Inspired Gaming, is also a European roulette game. 
It is noticeable in this game that you can place chips worth as low as £0.20. However, it has a minimum requirement of placing a total bet of at least £1, but this means that you can make 5 different bets on the layout within the minimum bet amount. The maximum bet limit is up to £50.
Similar to 10p Roulette, this is popular for being another low-stakes roulette game option. Again, it has an RTP (Return to Player) rate of 97.3%.
Live Roulette
Live Roulette by Authentic Gaming is a live casino European roulette game with an RTP rate of 97.3%. 
Live Roulette uses a real dealer facilitating the game with the footage live-streamed to your device. This roulette game also has a 'Lucky Numbers' feature, which sees from 3 to 11 random numbers selected each round, and if the ball lands in one of them, then all bets covering that number receive their winnings subject to an additional multiplier that could range from 50x up to 500x. 
For Live Roulette, the bet ranges from £0.20 to £100.
Immersive Roulette
Immersive Roulette, by Evolution, is another popular live European roulette game that allows you to play with bets from as low as £0.50 per round. 
It plays out like every other European roulette game, but it offers a high-quality gameplay experience through HD streams with multiple camera angles, slow-motion playback and friendly dealers. 
The RTP rate is 97.3%, and betting ranges from £0.50 to £100.
100 to 1 Roulette
100 to 1 Roulette, by NetEnt, is a roulette game that runs on a Random Number Generator (RNG) and offers additional features. First of all, it does away with the typical 37 or 38 pockets on a wheel. This roulette game has the numbers 1-100 in red and black, as well as 5 green pockets denoted by a circle, square, triangle, star and diamond.
The typical payout for a straight-up bet in Roulette is 35:1, so this game sticks out by offering a 100:1 payout on a winning straight-up bet. 
Bet amounts in this game range from £1 to £50. Again, the smallest chip denomination you can place is £0.10, but the game requires a total bet of at least £1 to start a round. However, that means that you could place 10 different straight-up bets in order to meet the minimum bet amount if you choose to.
See the paytable for more information on the different betting limits for the different bets. The RTP rate in this roulette game is 96.19%.
First-Person Lightning Roulette
First Person Lightening Roulette, by Evolution Gaming, is an exciting European roulette variant with a stylish and modern 3D design from a 1st-person perspective. The wheel here includes the typical numbers 1–36 and a single zero, and the available bet options range from £0.10 to £100.
Additionally, on each round, 1 to 5 random numbers are struck by lightning and offer lightning payouts that can range from 50x to 500x. If your bet covers a lightning number and the ball lands on it, then you receive the lightning payout.
The RTP rate for a straight-up bet is 97.10%. Meanwhile, it is 97.30% for all other bets.
Speed Auto Roulette
Speed Auto Roulette, by Evolution, is a European roulette variant featuring 37 numbered pockets, ranging from one to 36, with a single zero. This Roulette is known for its rapid gameplay and unique features, with the wheel automatically spinning at the end of the betting period and each round only lasting around 35 seconds. 
Besides that, it plays out like every other game of European Roulette. The minimum bet is £0.20, while the maximum is £25.
Speed Auto Roulette doesn't come with a dealer. Instead, the game is played on an automated roulette wheel that spins automatically at the start of each round. This automation speeds up the gameplay. 
Real Roulette
Real Roulette, by Microgaming, combines the live dealer roulette system and a virtual table using RNG software. It works by using recorded video of a real dealer for the interactions, but the game itself operates on an RNG. 
Its game rules are typical European roulette rules. The wheel has a single green '0', and the other slots show numbers 1-36. When you spin the wheel, a cinematic interaction begins between you and the dealer.
Meanwhile, you can place a bet for as low as £0.25 and as high as £25. In addition, this roulette game has an RTP of 97.30%.
Multifire Roulette
Multifire Roulette, by Microgaming, is a European roulette game with a Multiplier feature. The betting range goes from £0.25 up to £25 per round. 
Multifire Roulette is better than many other RNG roulettes, especially as random multipliers can appear on up to 5 random straight-up numbers on every single turn, offering potential payouts of up to 500x. 
Additionally, there is the "Random 3" option, which places three random straight-up bets. 
Thanks to HMTL5, Multifire Roulette is playable on mobile phones and tablets. It also has an RTP rate of 97.3%. 
Play Roulette Games Online for Real Money
So, can you play roulette games online for real money? The answer is yes. 
You can play roulette games online right here at Roulette Online, where all of our roulette games are real money games. This means that you play with your own deposited funds to place bets for the chance to potentially win real money payouts. 
So, if you're looking for the best place to play Roulette online, then look no further. You can do so right here at Roulette Online. Create an account to get started.
---
*All values (Bet Levels, Maximum Wins, etc.) mentioned in relation to these games are subject to change at any time. Game features mentioned may not be available in some jurisdictions.