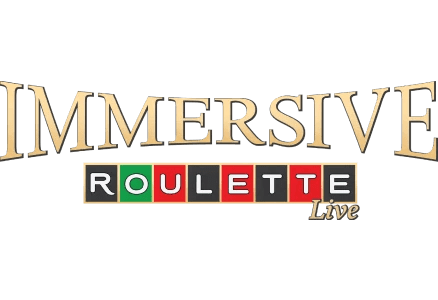 Imagine an online casino roulette game that brings the atmosphere of a land-based roulette table. Think live dealers and a social aspect allowing you to talk with other players. 
Evolution Gaming is well known for creating engaging live roulette games in beautiful lobbies that attempt to replicate a land-based casino. In this blog post, we will discuss what Immersive Roulette is.
We will also discuss if Immersive Roulette is rigged and where you can play it online for real money.
What Is Immersive Roulette?
Immersive Roulette is a unique and engaging live roulette game with crisp high-definition (HD) visuals and real dealers created by Evolution Gaming. It offers its players an experience they cannot receive from standard online roulette games.
It has multiple cameras that stream every angle of the studio to ensure you can see every single detail. You can even watch the ball spin in slow motion and see the exact moment it comes to a stop. 
Immersive Roulette also allows you an up-close view of the dealers so you can see every emotion that runs through their faces as the ball spins and when they announce the winning number and colour. 
If you are interested in seeing the hot and cold numbers for previous spins, Immersive Roulette allows you to view the last 500 games and their results. Just look through the bottom right-hand corner, and you will find all the information, including statistics. 
Live Immersive Roulette
Immersive Roulette is streamed live. So, everything in the game is happening in real-time. The live Immersive Roulette game is operated by real dealers and is based on European Roulette.
Therefore, the wheel has 37 numbered pockets covering 0 to 36. That means it also has the same house edge of 2.7%, and you can place any bets you would when playing European Roulette.
In addition, since this game is broadcast live, players can interact with the dealers and other players thanks to the Live Chat option. 
Is Immersive Roulette Rigged? 
Could there be a possibility that Immersive Roulette is rigged? No, Immersive Roulette is not rigged. This live casino game is offered by one of the reputable game developers, Evolution Gaming.
That means it is vigorously tested by a third party to ensure fairness. It also complies with UK Gambling Commission (UKGC) regulations to ensure that it is created and run with integrity and is not biased. 
Most importantly, you can watch the dealer spin the wheel and drop the ball in. Therefore, it is not possible to rig the game to have an unfair advantage over the other players. In addition, this game is streamed live with slot motion replays that showcase the moment the ball landed on the winning number, and that can also help players see that there is never foul play involved.
Moreover, this game, like all roulette games, has a built-in house edge, which ensures profit for the casino in the long run. So, the casino has no need to rig the game. Rigging the game puts the casino at risk of facing harsh consequences. Plus, it could lose players by rigging the games. Therefore, it would not make sense for the casino to rig this game.
Play Immersive Roulette Online For Real Money
Do you want to experience the unique and one-of-a-kind Immersive Roulette game online and potentially win real money? You can play it here at Roulette Online. 
You can play this casino game on any device, as it is optimised to be mobile-friendly without ruining the HD visuals and the overall experience.
You can place inside bets, place outside bets, bet on zero, and interact with the other players and the dealers. All the while standing a chance of potentially winning real money.
Bets begin from a minimum of £1.00 and can range up to £2,000 maximum. This wide betting range may appeal to a range of players.
Register an account by clicking the Join Now button and following the registration steps on-screen. After creating an account, you can access various other roulette games, as well as online slots and other casino games.
*All values (Bet Levels, Maximum Wins, etc.) mentioned in relation to this game are subject to change at any time.