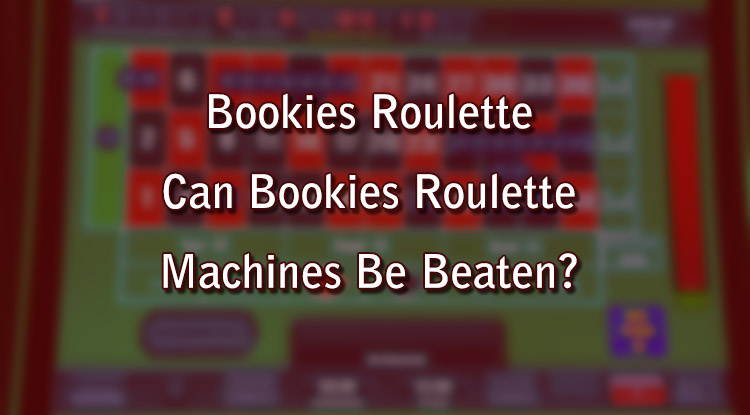 The bookmakers, also known as bookies, are accessible betting shops typically found in the high streets of the UK. They allow punters to place their sports bets and play other games in slot machines, including roulette.
However, there has been a prevailing assumption that these bookies roulette machines can be beaten. So, is that truth or fiction? In this Roulette Online Casino blog, we uncover the truth about whether or not bookies roulette machines can be beaten. 
Are Bookies Roulette Machines Fixed? 
The bookies roulette machines, also known as Fixed Odds Betting Terminals (FOBT), are slot-like machines typically found in bookies. Punters can play all kinds of bookies machine games through these machines, including roulette and slot games.
However, unlike slot games, they have a fixed maximum bet amount of £2, previously set at £100, but was reduced due to the potential of problem gambling they had. But just because these machines have fixed odds does not mean the games are also fixed or rigged.
These gaming machines use a Random Number Generator (RNG) system that ensures that the results of each spin are random and unpredictable and, most importantly, ensures that these machines cannot be rigged.
In addition, bookies roulette machines also have a house edge, just like other slot machines and casino games. But, all in all, the bookies cannot control or fix the roulette machines to favour them. And they have no need to, as they already have an advantage over the players due to the house edge.
Can You Beat The Bookies Roulette Machines? 
While the bookies roulette machines produce random results and are chance-based, winning is possible. 
For example, if you are playing a roulette game and make a bet on the ball landing on the black or red numbers, and it does, that will be a winning bet, and you will receive a payout.
You may hit a winning streak where you win on consecutive spins or a losing streak where each spin results in a loss. You could also have a somewhat equal experience of losses and wins. But, no form of play can help players change the odds of winning or "beat" the bookies roulette machines.
Bookies Roulette Tips 
There aren't any tips or tricks that can help increase your chances of winning, but there are things punters can do to better understand bookies roulette. Let's look at some of these tips below:
Understand the rules of the game you are playing:

Not all roulette games are made the same. While they may have the same basic principle, they can have different rules - e.g. European roulette vs American roulette. So, when you know the rules of the game you are playing, it can make it easier to enjoy it. You may also understand the different bets you can place and the different odds they offer. 

Set a budget

: This is perhaps the most crucial thing about bookies roulette machines, and gambling in general. The reason the maximum bet size was reduced was because of the potential for problem gambling. Therefore, it's always a good idea to set a budget and stick to it. Always gamble within your means.

View the machines as a source of entertainment

: These machines are intended as a form of entertainment for a limited time rather than as a way to make money. So, set a time limit to monitor and minimise the amount of time you spend at the bookies playing these machines. Consequently, that may help you stick to your budget and not overspend.

Look out for promotions

: To encourage punters to play with them, some bookies may offer players specific promotions and bonuses. If you look out for these promotions, you may be able to spin these machines with bonuses, free spins, or receive cashback. However, this may not be as popular with bookies as with online casinos such as Roulette Online. Also, be sure to read the terms and conditions of any promotions, so you know what you're signing up for.
Bookies Roulette Cheats 
Unfortunately, there are no bookies roulette cheats you can use to potentially increase your chance of winning when playing these games. The only thing that determines whether you win or not is the RNG.
Even so, we cannot stress enough how important it is that potential punters play roulette with the intention of having fun rather than making money. 
Suppose you are caught trying to cheat a bookie's roulette machine, regardless of how unlikely to be successful the cheat is. In that case, you could face severe consequences, including a ban from the bookies or even legal consequences.
Conclusion
Bookies roulette is a staple of high street bookies, being fairly popular among punters. However, they are random games of chance. They are not rigged; otherwise, the bookies risk losing their license to operate.
Like all casino games, bookies roulette machines produce random results at all times. That means the chances of landing any particular number are the same on each spin of the machine. 
They cannot be cheated by any means. So, play responsibly and remember that winning is never guaranteed. 
If you want to play roulette and other casino games, you can check out our collection here at Roulette Casino online, even from mobile devices. We have an extensive range of online casino games, including slots and roulette.
*All values (Bet Levels, Maximum Wins, etc.) mentioned in relation to this game are subject to change at any time.