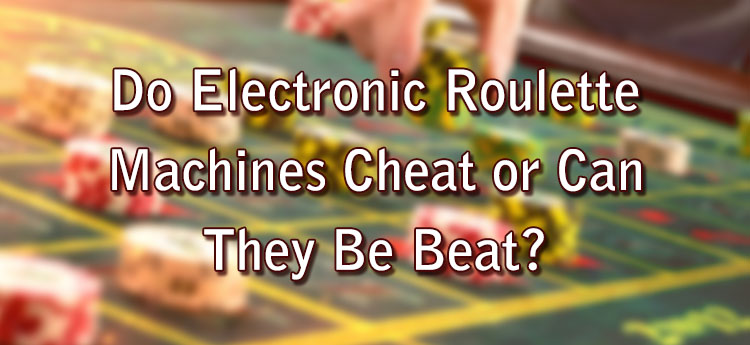 Electronic roulette machines are computerised versions of the classic roulette casino game. Many players often wonder whether these machines are fair, and some question if they can be cheated.
In this Roulette Online blog post, we'll share whether electronic roulette machines are random, can be cheated, or beaten.
Do Electronic Roulette Machines Cheat? 
Electronic roulette machines are designed to be fair and random for all players. To ensure the fairness of electronic roulette machines, a variety of factors are considered. These include using Random Number Generators, having strict security measures, regular testing by the UKGC, and ensuring players gamble responsibly and do not cheat.
Bets in electronic roulette are made by placing bets through a virtual screen. The outcome of each roulette wheel spin is determined by a Random Number Generator (RNG), which makes outcomes impossible to predict and ensures fairness for everyone playing.
As well as using an RNG to make electronic roulette machines fair, UK casinos follow strict measures set by the UK Gambling Commission (UKGC). Regular tests are also carried out to check that the RNG in the roulette machines are working as they should.
In casinos, strict security measures are followed so electronic roulette machines cannot be cheated. Live casino staff monitor the machines to ensure players are not attempting to use cheating devices, which would make things unfair for everyone.
Is Electronic Roulette Really Completely Random? 
Electronic roulette machines are entirely random as they all use a Random Number Generator (RNG). A Random Number Generator is a complex computer algorithm that creates a constant flow of random number sequences. When the roulette wheel spins, the RNG generates a random outcome. 
Because of this, outcomes cannot be rigged or predicted. The machine even generates random outcomes when not in use! 
As electronic roulette machines use an RNG, players can trust that they will have a fair and random gambling experience every time. The casino can't change the RNG of an electronic roulette machine.
Can You Beat Electronic Roulette? 
It is possible to win electronic roulette, and the odds of winning a straight bet are 37/1 (European roulette) and 38/1 (American roulette). However, there are no particular strategies to win roulette consistently, and cheating devices do not work, despite claims.
In the long term, the casino will usually win because of the house edge. The house edge is how a casino makes an average profit on their casino games, including electronic roulette. It is a built-in advantage shown as a percentage that all casino games have.
Because of the house edge, there is no need for casinos to cheat electronic roulette machines as, in the end, they typically win. 
*All values (Bet Levels, Maximum Wins etc.) mentioned in relation to this game are subject to change at any time. Game features mentioned may not be available in some jurisdictions.