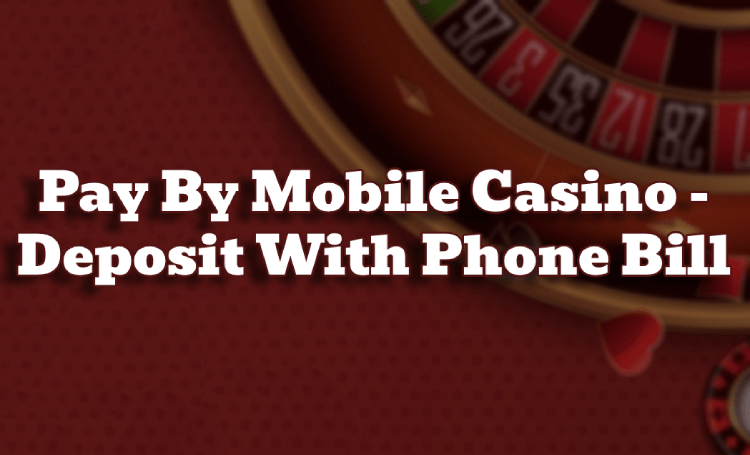 The Pay By Mobile option allows players to deposit funds into their casino accounts using their phone bill. This post will delve into the details of how a Pay By Mobile casino works and the benefits it offers, as well as answer some common questions related to the topic.
Mobile Casino Pay By Phone Deposit
Roulette Online is a mobile casino that offers a Pay By Phone deposit option. This payment method is a convenient and secure way for players to deposit funds into their casino accounts using their phone bill. 
Whether you prefer slots or other casino games, Roulette Online has mobile-friendly options for both. That means you can play most of the games we have on offer on mobile devices without losing any display or gameplay quality. 
So, here at Roulette Online, you can deposit funds into your account and play your favourite casino games all on your mobile.
How Does a Pay By Mobile Casino Work?
A Pay By Mobile casino provides players with an option to deposit funds using their phone bill. 
The process is simple: 
Players choose the Pay By Mobile option.

Specify their desired deposit amount.

Enter the phone number of the mobile they want to use to make the deposit. 

They then receive an SMS with a security code, which is to be entered into the appropriate field on the deposit page for verification. 

Once verified, the deposit amount is added to their casino account, and the corresponding charges are included in their next monthly phone bill. 
Play Pay By Mobile Slots
One of the most popular categories of casino games available in Pay By Mobile casinos is mobile slots. These games are optimised to be compatible with mobile devices, allowing players to enjoy their favourite slots on the go. Whether you have a smartphone or tablet, you can immerse yourself in a wide variety of slot games with just a stable internet connection and a mobile device that supports HTML5 software.
All of our slot games can be played using deposited funds, regardless of the chosen payment method. Choosing a certain payment method does not restrict which games can be played, so in this sense, all of our slots are Pay By Mobile slots.
Discover The Latest Pay By Mobile Bill Casino Games
Roulette Online offers a vast selection of casino games to cater to a range of players' preferences. While mobile slots are a popular choice, there are also other exciting games available. Players can explore classic table games like blackjack, roulette, baccarat, and poker, as well as live casino games that provide an immersive and interactive gaming experience.
By choosing us, players can enjoy the convenience of depositing funds through their phone bill while having access to a wide range of high-quality casino games. This flexibility ensures that players can find their favourite games and enjoy them at their convenience, whether they are at home or on the go.
We also frequently add new games to our site so our players can play the latest Pay By Mobile Bill casino games available.
Pay By Phone Casino Benefits
The Pay By Mobile payment method offers several benefits for online casino players. Let's explore some of the key advantages:
Convenience and Simplicity
One of the primary advantages of using a Pay By Mobile casino is the convenience it offers. With this payment method, players can quickly and easily deposit funds into their casino accounts using their phone bill. The process is straightforward, requiring only a few simple steps to complete the transaction. 
Enhanced Security
Pay By Mobile casinos prioritise the security of their players' financial information. By eliminating the need to disclose sensitive banking details, this payment method may appeal to those who prefer alternative payment methods.
Budget-Friendly Deposits
Another significant benefit of a Pay By Mobile casino is the lower minimum deposit limit compared to other payment methods. Here at Roulette Online, players can deposit as little as £5 using Pay By Mobile. This low minimum deposit requirement may appeal to players who prefer to play with a lower budget or test the waters before committing to larger deposits.
Boku & Not Boku Deposit Options
Boku is a well-known Pay By Mobile deposit provider. However, there are alternative options that are used by online casinos. Fonix is one such option, offering a similar service that allows players to make mobile payments added to their monthly phone bill, and it's the one used here at Roulette Online. 
Pay By SMS Casino FAQs
Can you use your phone bill to gamble?
Yes, Pay By Mobile casinos allow you to use your phone bill to deposit funds into your casino account. You can then use these deposited funds to place wagers on any of our online slots and casino games for the chance to potentially win real money. 
Do mobile slots use much data?
Mobile slots use varying amounts of data depending on the game and its features. However, with advancements in technology and the efficiency of HTML5 software, mobile slots are designed to use minimal data while maintaining high-quality graphics and gameplay. 
That being said, it's always a good idea to monitor your data usage or connect to a Wi-Fi network to ensure a smooth gaming experience.
Can you play slots on your phone for real money?
Yes, here at Roulette Online, we offer real money slots that provide players with the chance to win exciting cash prizes. After depositing funds into your casino account using your phone bill or any of the other payment options, you can play slots for real money directly from your mobile device.
What is the pay by phone casino minimum deposit?
Roulette Online offers a low minimum deposit limit with the Pay By Phone option, allowing players to deposit as little as £5. This is lower than the minimum deposit amount for other payment options.